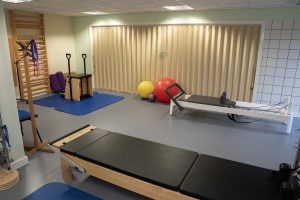 WHAT IS PILATES?
Pilates is a form of exercises focusing on posture, alignment and core stability.  The combination of targeted exercises helps you strengthen specific muscle groups tailored to your needs. Pilates can also be helpful to improve continence, breathing, balance and wellbeing.  It is an opportunity to connect with your body and unwind.
HOW COULD PILATES BENEFIT ME?
Regular Pilates can improve some of the symptoms of neurological conditions by promoting more normal movement patterns.
Benefits can include:
improving flexibility
improving posture
improving your gait and walking
strengthens your muscles
improved wellbeing
By improving the way your body moves you may find a reduction in pain and everyday tasks are made a bit easier.
HOW TO ACCESS PILATES?
Speak to your physiotherapist about being referred for Pilates.  Once referred you will need to book an initial assessment with a Pilates instructor. They will then advise one-to-one sessions or group classes, or a combination of both.
OUR TREATMENTS AND THERAPIES