An important cog in the system
Chilterns Neuro Centre Patron, Trishna Bharadia, has not let multiple sclerosis (MS) stop her from leading a full and busy life. Since her diagnosis she has been active in promoting awareness of MS and in advocating for others. Here she talks about some of the challenges she has faced and how the people, community and services on offer at the Centre have helped improve her quality of life.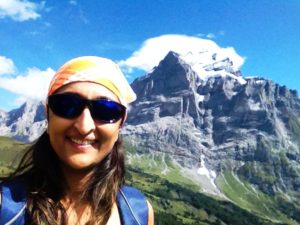 "I was diagnosed in 2008 at the age of 28 so at that time in my life I was very independent, working full-time, playing competitive league hockey and leading a very active social life.
The changes brought about by MS were gradual at first. At the time of diagnosis, I was working full-time and getting up at 4.45am to miss the rush hour and be in the office by 6.30am. This became unsustainable as my fatigue worsened and I gradually started to do more days from home, eventually going full-time from home in 2011.
I think the second major change came when I had to give up playing hockey. Prior to diagnosis, I was training twice a week and playing every weekend. Eventually a single match would wipe me out for a few days, my reactions were getting slower as my muscle fatigue worsened and I was getting injured more often – a few times landing in A&E with serious impact injuries because I couldn't get out of the way of flying balls fast enough. That's when I decided it was time to stop, which was really hard because we're a hockey family – everyone plays – and it's in my blood.
The uncertainty of the condition is really difficult to live with because I'm constantly thinking about how to secure my future without really knowing what that future might hold. I'm not the only person to have also experienced isolation and loneliness as a result of MS and won't be the last.
I discovered the Centre in 2011 while looking for specific MS physio and some counselling. This was when the Centre was still based out of a portacabin, and whilst it didn't have a fancy building, it was immediately obvious that the expertise of the staff, the warmth of the welcome and the friendliness of everyone there was a reason to come back!
Out of the many treatments and support on offer at the Centre, two areas have been most beneficial for me – the annual physio assessments and the community. The assessments have been vital for me to monitor my MS outside of my neurology clinic and to keep an eye on my overall physical health, helping me maintain my active lifestyle. The community is just fabulous too. I've met some wonderful people through the Centre and am an active member of the Facebook group. Whilst I've not been into the Centre physically for a while, I've still felt connected online.
The Centre has given me confidence in self-management and taking a proactive approach to a holistic management of my MS. I feel that it has become a 'cog' in the system that is my life with MS, working alongside my healthcare team, family, employers, friends and other organisations to help me live as positive a life as possible with this condition.
I think the one thing that is really crucial about the Centre is that it offers services that are either not available or not very accessible on the NHS. Having those services available and also the community from which I can learn about day-to-day living with MS is so invaluable.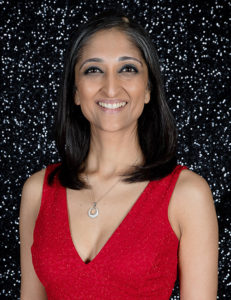 There have been a lot of positives since my diagnosis, which honestly I think for me outweigh the negatives. My advocacy work has become my life and I really believe it's what I was meant to do in life. MS has defined the path that I've taken with my business too. My advocacy has led to some amazing things – travelling to places I'd never have dreamt of travelling; meeting lots of wonderful people from the MS community who have inspired me; doing Strictly Come Dancing! I'm patron/ambassador for various health and disability-related organisations and work with lots of different stakeholders within the healthcare ecosystem and life sciences industry, in order to get the patient voice properly embedded in all that they do.
I hope that in the future the healthcare system becomes truly patient-centred, so that it doesn't matter who you are, where you're from, what level of education you have, what your health literacy is like – everyone has the opportunity to access good quality healthcare that works for them.
Getting support from the Centre has the potential to have a fundamental impact on your quality of life, whether that be physical, mental or emotional. You might come for one particular service but if you explore everything that the Centre has to offer you might find something else that you hadn't even realised that you needed!
I think diagnosis has changed a lot of things around my approach to life – my priorities, hopes and concerns for the future. I'm really proud to be a Patron for a charity that is helping so many people from the MS community and beyond.