Yoga is relaxation for the mind
When Mini Miller was diagnosed with MS in 2018, she was told she had probably unknowingly had it for around 10 years. Life at that time had been picture perfect for Mini; she had a full-time job, a great life with her husband and two daughters and a grandson too. She now has three more grandchildren.
Once diagnosed, Mini was directed to the Chilterns Neuro Centre by her MS Nurse and was keen to join straight away as she wanted to find out everything she could about her MS.
"Everyone at the Centre was so friendly and their support helped me get my head around my diagnosis. Their experience and advice helped me to understand and cope with my MS and gave me an idea of some of the changes I could expect for myself and for close family.
"I had so many questions and having people there who I could ask about anything and everything made a huge difference. It still does and I am grateful that there is always someone at the Centre who can give me the advice I need.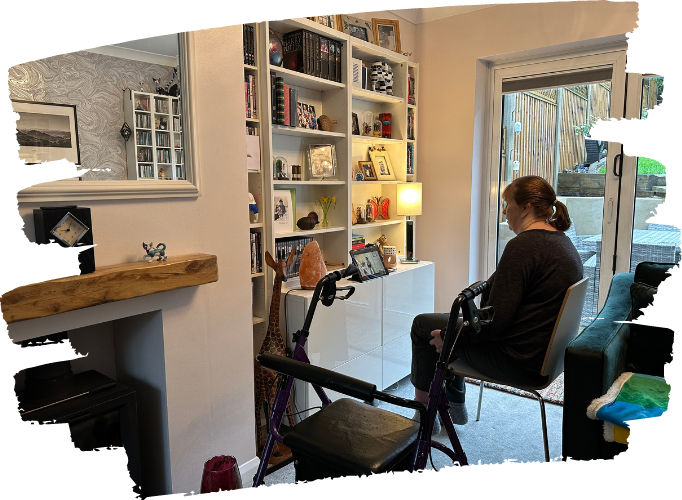 "After my initial assessment at the Centre, I tried a variety of treatments to assist with my symptoms, from oxygen, physio and acupuncture, to online exercise classes and yoga.
"At various times they have all been beneficial to me but yoga is the one treatment that has made a real difference to my mental wellbeing. I'm unable to work now, as between my fatigue and mobility problems, it would be too difficult and stressful.
"Stress is not my friend so finding a way to clear my thoughts and calmly deal with difficult situations was important to me. I have found that in yoga.
"Yoga is very relaxing for my mind and helps with my stress levels, calming me down with breathing exercises and gentle movements. Learning to deal with my disabilities and mobility problems can be an incredible challenge and I've had many times when I've cried on my own, thinking I couldn't do something.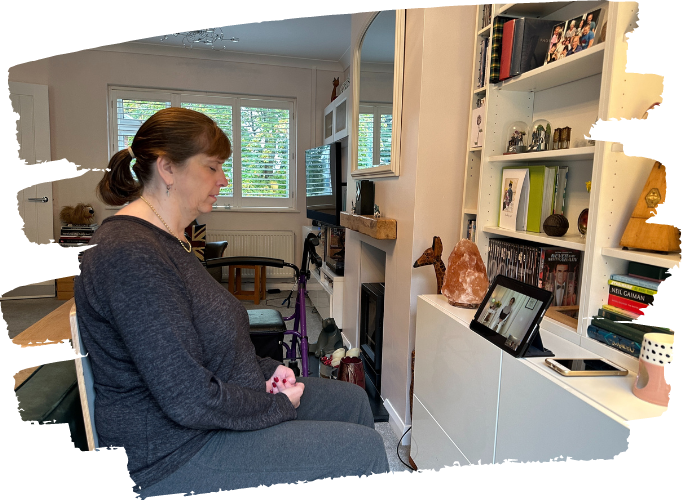 "Somehow during these times I've pulled myself together and found the strength and determination to do things – even though simple tasks can take so much longer. Without the support I receive from the Centre and my regular yoga classes to deal with my stress, I don't feel I would be able to manage and I would probably be very lonely as my husband and daughters all work.
"Much of the advice I've found from reading about MS, talking to my neurologist and to others with MS, is that doing daily exercises and having others to talk to really helps. I would add doing regular yoga classes to that list!
"I receive these things and more from the Centre. When life took an unexpected turn, it turned out to be just what I needed and it continues to give me the support I need every week. Without giving the team there big heads, they have made a huge difference to me and given me the chance to make great friends along my journey.
"My advice to anyone who has had an MS diagnosis and is considering coming to the Centre is simple – live each day as it comes, ask for help when you need it and take part in the many classes and groups on offer at the Chilterns Neuro Centre – they are just brilliant!"
If you have MS, Parkinson's or experienced a stroke and feel you would benefit from the services offered by the Centre, or you know someone who would then please get in touch by phoning 01296 696133 or by emailing info@chilternsneurocentre.org
What are some of the benefits of yoga?
Yoga takes joints through their full range of motion which helps improve flexibility
Meditation, movement and breathing techniques can lessen tension and relieve stress, fatigue and depression
Many postures in yoga are weightbearing which increases strength
Yoga aids in draining the lymph system, which helps boost your immune system and fights infection
Yoga can be helpful in improving balance
Yoga increases oxygen in your blood which helps prevent blood clots, heart attack and stroke
The mental calming and stress relief from yoga can help improve sleep
Yoga at the Centre takes place on Wednesdays at 2.15pm (mat yoga) and Fridays at 9am (seated yoga). Session are held online so you can do them from the comfort of your own home, office or wherever you want.
To book your place and receive the login details, please contact the Centre reception on 01296 696133 or email appointments@chilternsneurocentre.org